WindyCreek
Labrador Retrievers


"Tucker"
Ridgeway Tucker of WindyCreek
female, born: December 28, 1994.
Sire: Autumns Thunder Vision
Dam: Ridgeway's Nickel
Pedigree of Ridgeway Tucker of Windycreek
WindyCreek Labrador Retrievers was established with our first Labrador, "Tucker". We breed top-quality pure Labrador Retrievers. All of our Labradors have superior pedigrees with champion blood lines making them ideal for family pets, show dogs, hunting, and field trials. They are good-natured and loving dogs. All puppies are raised by us, one litter at a time, in a warm family atmosphere.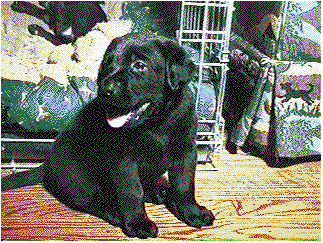 The Labrador Retriever Home Page
Breeding, Whelping, and Rearing Puppies
Dog Owner's Guide Profile: The Labrador Retriever
Labrador Retrievers-Liza Lee Miller & Cindy Title Moore


Copyright © 2001 WindyCreek, All Rights Reserved.