HOMESCHOOLING:
A PATCHWORK OF DAYS
Share A Day With 30 Homeschooling Families
by Nancy Lande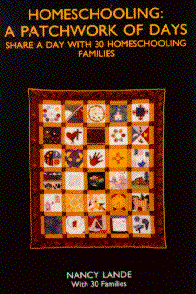 HOMESCHOOL OPEN HOUSE


by Nancy Lande
Visit again with families from A PATCHWORK OF DAYS to learn what they are doing now, five years latter. Meet almost 30 new families who open their homes to you.
Forward
Reviews
Ordering Information

HOMESCHOOL OPEN HOUSE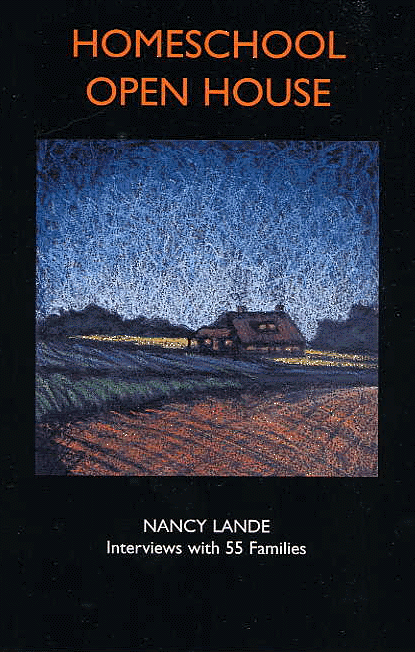 I wanted to help parents get started in homeschooling with a vivid notion of how other families wind through their days, being able to observe as though they were a "fly on the wall" at each home. Learn how 55 families from around the world handle the learning of several children, how they get the house (moderately) cleaned, the meals cooked, and have time for husband and wife to be together. How do they resolve differences and nurture the character growth and education of their children? These "close up and personal views" help to focus in on what you like or don't like so that you may form a clearer vision of getting started in a style that begins to suit your own family culture. This book also offers fresh ideas to seasoned homeschoolers who are looking for new resources, tips, short cuts, change in style or scheduling, or who are concerned whether they "measure up" to other families. There are photos, log pages, and italicized resources. (500 pages) Topics covered in HOMESCHOOL OPEN HOUSE include:
•Personal insights from 55 families

•Illusions about homeschooling and their results

•Defining your family culture and environment

•Fitting schooling to family lifestyle

•Parenting strategies, chores, organization

•Family management and personal empowerment

•Decision making, change, and flexibility

•Learning resources, italicized for easy reference

•Questions to consider before homeschooling

Enter our drawing to win a free copy of

Congratulations to Libb V. from Illinois who is the first winner.

"I've read your wonderful first book and have been looking forward to your newest venture." Libby V.
Copyright ©1996-2000. WindyCreek Press, All Rights Reserved.